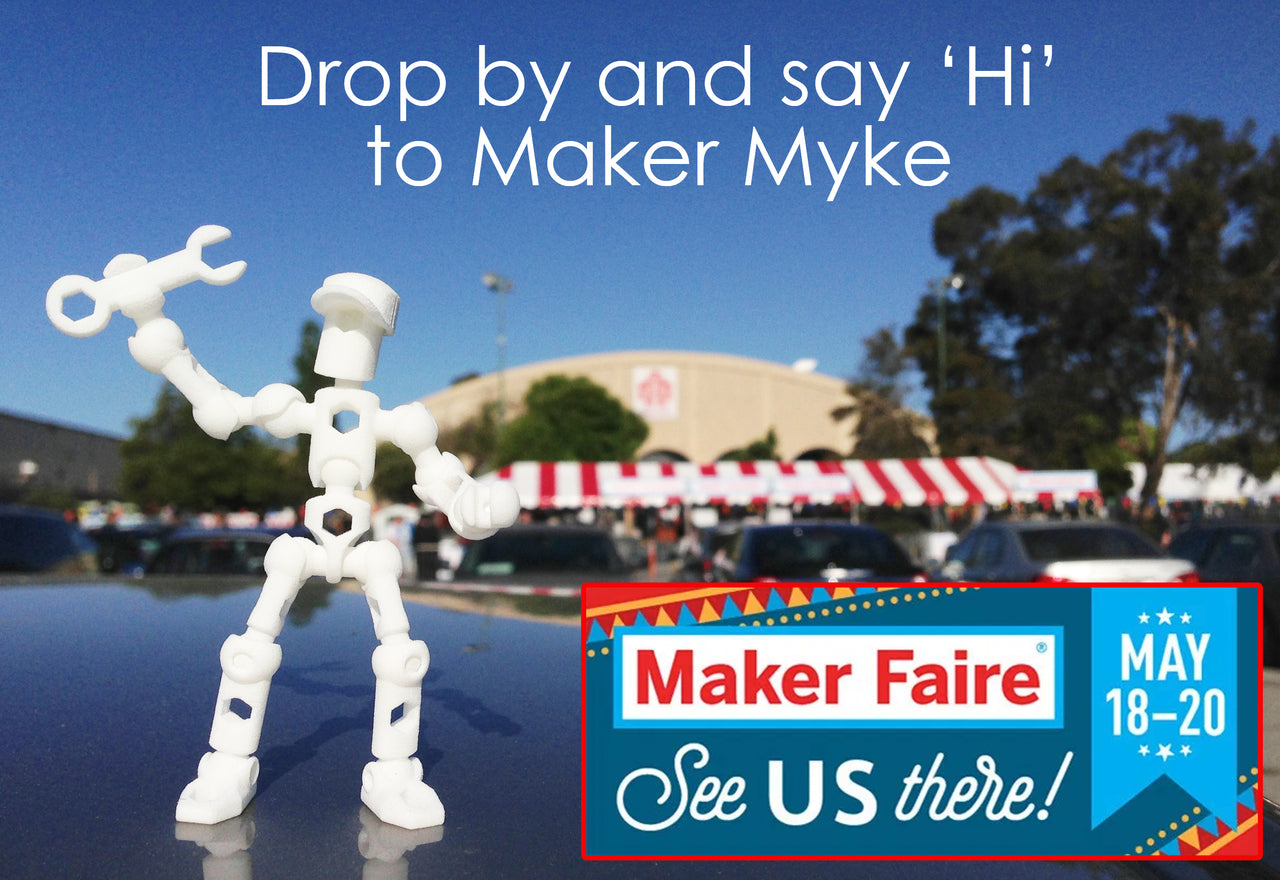 We're ramping up for an appearance at the Bay Area Maker Faire, May 18-20. As many of you know, we launched at the Greatest Show (and Tell) on Earth in 2013, with some prelim samples of our molded figs and limited run of Maker Myke figures printed specifically for the show, all just prior to our launching our Kickstarter. We love the energy, optimism and curiosity it brings out in people.      We'll be exhibiting all sorts of new kits and accessories available for the first time in-person. We'll have the SpyBorg, Mechanoid Zero and Meta upgrade frame, ModiRaptor, Moli Modifier Frame, Human ExoSkin, and a variety of assorted weapons, accessories and figure upgrades. We'll also be featuring the MoBility Stopmotion torso and...
ModiBot at Maker Faire New York in 2013- Featuring a rare shot of the 16 inch ModiBot Mo on display as we were starting to set up the booth. This was the first event that we sold Mo kits to the public and was about 2 weeks before we started shipping the first batch of figures. […]
Come and try your hand at the ModiBot build system during at the inaugural Cinci maker Faire on October 19th. Billed as "The greatest show and tell on earth!", Maker Faire features a wide variety of inventions, science demonstrations, robots, 3d printing and a ton of amazing things. Kids will have the opportunity to explore […]
Rhode Island Mini Maker Faire | Celebrate New England DIY Come check out ModiBot this Saturday at RI mini Maker Faire at Foo Fest! We'll have a demo table for tinkering with the parts and ModiBot Myke 3d printed mini figures for kids to build and decorate. Drop by and say "Hey!"
Tags:
3d printed
,
3d printing
,
DIY
,
edutech
,
Events
,
Figure Kits
,
Maker Faire
,
Modibot
,
RI
,
STEAM
,
STEM
I'll be speaking about ModiBot, the role of Making and guerrilla product development in the current 'free agent' economy. Come build some 'bots at the conference or bring the kids and come see us at Bay Area Maker Faire on May 18th and 19th!
Tags:
3d printed
,
3d printing
,
build
,
character
,
dimensions
,
DIY
,
Dynamo DevLabs
,
Events
,
faire
,
Figure Kits
,
Hardware
,
Make
,
make magazine
,
Make:HIW
,
maker
,
Maker Faire
,
speaker
,
video
ModiBot mention on MakeBlog Click the title above to see a nice, little story about ModiBot's beginnings from our friend and Maker Media senior editor Brian Jepson. His story is true, he printed the first ModiBot parts on his MakerBot […]